Roll over image to zoom in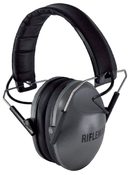 Description
RIFLEMAN EXS - Ear Protection
The Rifleman EXS electronic earmuff delivers high quality amplified sound while providing NNR 21 hearing protection. Weighing only 8.3 onces, the Rifleman features a sleek, low profile cup design. Manufactured by Altus Brands, it operates on 2 AA batteries (batteries not included).
For large or custom orders, please call 866-498-8228
Payment & Security
Your payment information is processed securely. We do not store credit card details nor have access to your credit card information.