Roll over image to zoom in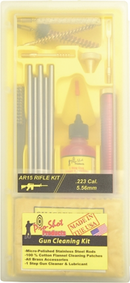 Description
Pro-Shot Product
AR223Kit - AR15 Turn Key Kit
.223 Cal. / 5.56mm..Turn key kit for AR15 Platform rifles

Kit includes:
Premium Stainless Micro-Polished Gun Cleaning Rod  5 Qty. "6.5 Inch Length"
Full Size Swivel Handle
Brass Patch Holder 
Bore Brush
Chamber Brush
Chamber Mop
Brass Cleaning Jag
Brass Muzzle Guard
Next Generation 1 Step Gun Cleaner & Lubricant
World Famous 100% Cotton Flannel Cleaning Patches
Double Ended Nylon Bristle Gun Brush
Pro-Gold Grease
Silicone Treated Gun Cloth
For large or custom orders, please call 866-498-8228
Payment & Security
Your payment information is processed securely. We do not store credit card details nor have access to your credit card information.