Roll over image to zoom in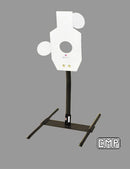 Description
Description
C-40 Steel Target - Tactical IPSC - B & C Zones
This Tactical target uses a B C Zone torso with the head of a "bad guy" looking over the shoulder of the "hostage". When hit, the "bad guy" flips from one side to the other side. There is also a center of mass reactive target that will flip out to the side when hit.  To reset, just shoot it back.
The target comes complete with stand and all hardware required. The post fits into a socket on the base, and the torso is bolted to the post with Grade 8 hardened carriage bolts. The target is a B C Zone torso (12 w x 24 h), the hostage head and center mass is 6" diameter. The targets are made from 3/8" AR500 steel for extreme long life and excellent impact resistance.
Size
Overall size: 24 w x 34 dp x 48 h
The AR500 Steel Target is Rated for 3000 FPS(Feet Per Second) at Impact.
Shipping weight: 64 lbs
For large or custom orders, please call 866-498-8228
Payment & Security
Your payment information is processed securely. We do not store credit card details nor have access to your credit card information.