Roll over image to zoom in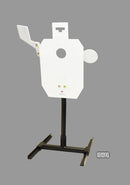 Description
Description
C-41 Tactical Sniper Steel Target
Sharpen your rifleman skills with this new Sniper Target mad of AR500 Steel which offers three targets in one. Hitting the full size IDPA torso is for the basic rifleman, or aim for the the 4" diameter cutout in the chest for the more advanced rifleman. The precision shooter will go for the head shot, the eye opening is only 3.5" x 1.75"
When the chest or eye opening is hit, the reactive target flips to the side of the torso.  Shoot it again to flip it back! No manual resetting required, just keep shooting!
The 3/8" thick target serves for most calibers and the 1/2" thick target is for the larger magnum rounds.
Minimum rifle range is 100 yards, maximum bullet velocity is 3000 fps at impact. Not for .50 BMG!
Size
Overall size: 24 w x 34 dp x 55 h
Shipping weight: 82 lbs
For large or custom orders, please call 866-498-8228
Payment & Security
Your payment information is processed securely. We do not store credit card details nor have access to your credit card information.