Roll over image to zoom in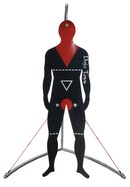 Description
The NEW One-Hand Target System(D-OHTS) is a compact, portable and versatile training target system that sets up in minutes without the use of nuts, bolts or tools of any kind. You can take it from the gym to the parking lot or the field, quickly giving you more variety for drills in realistic situations. The stand is constructed with powder coated Telsbar Steel Tubing, this new lightweight system allows for training in all types of weather and environments to help better prepare each officer to face a real life encounters.
Please call 866-498-8228 for shipping rates on this item.
Payment & Security
Your payment information is processed securely. We do not store credit card details nor have access to your credit card information.