Roll over image to zoom in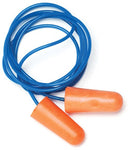 Description
Disposable Ear Plugs
Polyurethane Disposable Uncorded Earplugs and the Corded Earplugs. These Earplugs gently expands and self adjusts to all size ear canals.
NRR 31db
PY-DP1000 - Uncorded plugs come 200 per container.
PY-DP1001 - Corded plugs come 100 per container.
For large or custom orders, please call 866-498-8228
Payment & Security
Your payment information is processed securely. We do not store credit card details nor have access to your credit card information.