Roll over image to zoom in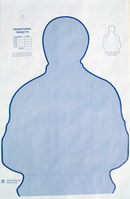 Description
Qualification Targets Inc Product
TSR-IV Blue Paper Target - Transtar Transition Target with Neck Line and Pelvic Zones.
FLETC Specific Training and Qualification Target. US Dept. of the Treasury Transitional Target II
The US Dept of Treasury Training Targets are used by numerous agencies across the Country.
Fullsized Silhouette - Blue Ink.
 24" x 40" Paper
For large or custom orders, please call 866-498-8228

Payment & Security
Your payment information is processed securely. We do not store credit card details nor have access to your credit card information.