Roll over image to zoom in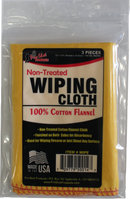 Description
Pro-Shot Product
WIPE - Non-Treated Cloth 
Non-Treated Cloth (3 per bag) *Contains 3 cloths with red sewn edges.
12 x 12" non-treated 100% cotton flannel cloth.
Can be used for wiping down firearms or just about any object. 
For large or custom orders, please call 866-498-8228
Payment & Security
Your payment information is processed securely. We do not store credit card details nor have access to your credit card information.